Discover more from Game Trends
Gaming trends from two huge gamers
Game Trends #3 - Virtual Streamers
Live Streaming meets Gorillaz
Feel Good Inc. by Gorillaz was my first experience with a "virtual band". Virtual bands, virtual YouTubers, and virtual streamers are all the same concept; the people creating and performing are not the focus. CGI characters are replacing humans, even outside of animation. 
Virtual performers are not new. Alvin and the Chipmunks are the earliest example. Other notable Western examples include Dethklok and Crazy Frog.
Japan and the East, unsurprisingly, love virtual performers. Hatsune Miku is one of the most popular. She has widely attended live concerts. K/DA is a virtual K-pop group composed of characters from Riot's League of Legends that has also seen enormous global success.
Virtual streaming was really kicked off in 2016 by Kizuna AI. Kizuna plays video games just like other streamers, but she is entirely virtual. Body movements are likely motion captured or pre animated. Her voice is a paid actress. She embodies many cutesy anime girl tropes. 
Previously, streaming was dominated by young men on Twitch in the West, which didn't appeal to Eastern audiences. Japan was already primed because of their penchant for virtual idols. Kizuna likely uses the same freeware, MikuMikuDance, as Hatsune Miku.
The Japanese popularity of virtual streamers has influenced a new generation of Twitch streamers. Streamers like projektmelody (NSFW) and BuffPup do well in their niches. The vast majority of virtual streamers follow the trail blazed by virtual idols and Kizuna AI. Typically they are young female anime avatars that speak Japanese.

BuffPup stands out. BuffPup is one of the earliest virtual streamers to branch out from its anime roots into furry fandom. I'll let you look that one up if you're unfamiliar. Virtual streaming is clearly still in its infancy. Expressiveness of many virtual streamers is lacking, which leaves a huge opportunity for the right tech to push the medium forward. Many fall into uncanny valley territory.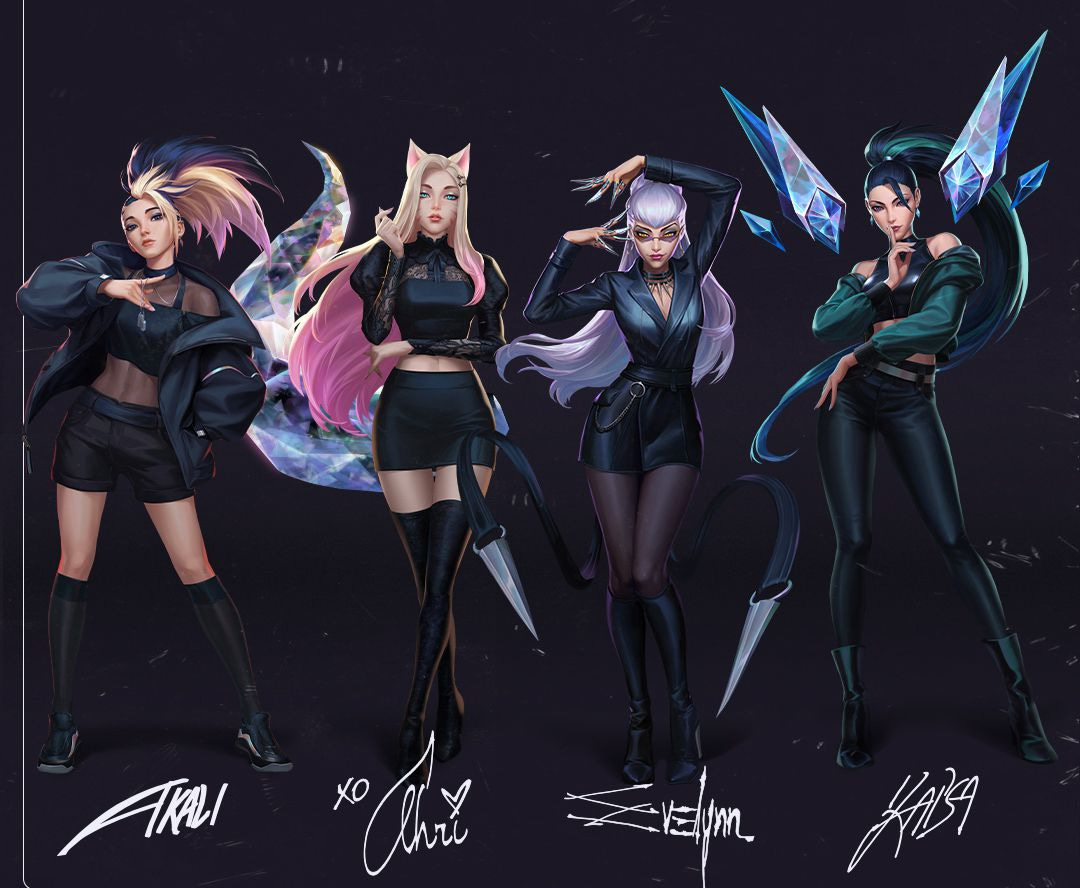 Since Riot is already getting their feet wet with virtual performers, I expect this trend to continue in the industry. Every major publisher will have a virtual version of their characters playing their games, streamed live. Publishers will pay actors to do motion / facial capture as well as live voice. Fans will finally be able to interact directly with their favorite video game characters. This market alone will be enormously profitable, since it can leverage existing live streaming monetization techniques.

Gaming companies will double down into motion capture and face filter-like technologies. They'll branch into AI generated voice tech, or acquire it. Once the tech gets there, virtual streaming will be an extremely high margin business, because even the talent will be fully automated. At least in the short and medium term, this will mean more jobs for actors, so that's a plus.
Stats:
K/DA has over 384 million views on this video
Kizuna AI has over 2.8 million subscribers on Youtube and videos with over 14 million views

projektmelody (NSFW) has 289,000 followers on Twitch, and routinely has 3,500+ concurrent viewers

64+ virtual streamers on Twitch (https://www.twitch.tv/team/antilewdarmy)